You Think This Is Hot?
Posted by Howard on Jul 20, 2014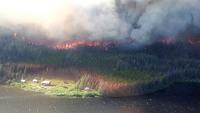 TWO WEEKS of record-high temperatures had BC smoking with over 120 forest fires in July, 2014 but the wildfire situation was not as dire as several times in years past. Forest Fires, also known as wildland fires, burn an average of 300 sq km of forest in BC annually. Each year the province spends about $40 million on forest fire preparedness and an equal amount on fire fighting. On average 2,800 fires occur in BC annually, a little over one-third of the national total. The worst year on record was 1958, when 8,358.76 sq km of timber went up in smoke. The greatest number of fires (4,068) occurred in 1994, but they burned over a smaller area.
Some Forest Fire Facts from the Encyclopedia of BC:
Largest forest fire in BC history: the 1958 Kech fire, which burned 2,860 sq km in the remote wilderness of north-central BC. It eventually burned out naturally.
Largest fire ever fought in BC: the 1982 Eg fire (1,827.22 sq km), which was left largely unfought for weeks and finally blew into an inferno that overran the ALASKA HWY hamlet of FIRESIDE, destroying a hotel, a service station and 6 homes. At its peak the fire's front was estimated to be 25 km long and 200 m high. Most fire fighting occurred around the evacuated community of Coal River.
Largest fire to start in BC: the 1950 Wisp fire, which began north of FORT ST JOHN and burned 900 sq km in BC before crossing into Alberta and the Northwest Territories. Its final size was 14,000 sq km, nearly half the size of VANCOUVER ISLAND.
Most catastrophic fireseason: the summer of 2003 saw the destruction of 265,000 ha of forest by 2,500 fires. More than 10,000 firefighters fought the blazes, one of which forced the evacuation of 33,000 people in and around Kelowna where 238 homes were lost or damaged. A second blaze at McClure, north of Kamloops, forced the evacuation of 3,800 people.
Original EBC entry by Keith Keller