Challenger Map On Display Again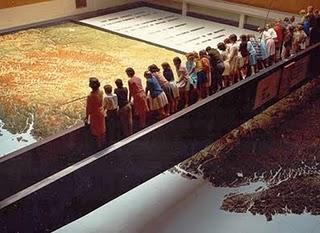 When I was a kid in Vancouver, one of the highlights of any visit to the grounds of the Pacific National Exhibition was the Challenger Relief Map of British Columbia. (Who knows, maybe that's me in the photograph, gazing down on the map with the other members of my class.)
From 1954 to 1997 the huge map, occupying 1,850 square metres of floor space, was housed in the BC Pavilion at the fairgrounds. Then, in 1997, the pavilion was demolished and the map had to be moved into storage.
The relief map was built to topographical scale by George Challenger and his family using pieces of fir plywood cut into 986,000 individual pieces. It took the family seven years to do the job. When they were finished, Challenger donated the map to the PNE where it remained for 43 years.
There is a move afoot to find a new public home for the giant artifact (visit www.challengermap.org). Meanwhile word came this week that the RCMP have installed one segment of the map at the headquarters of the 2010 Winter Olympics Integrated Security Unit in Richmond. The section shows the southwest corner of the province, the area for which the ISU is responsible during the Games.