J. Williams Ogden, Painter in the Pulpit
Posted by Daniel on Feb 25, 2010
Chuck Davis writes: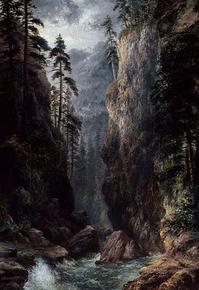 A letter to me many years ago from Canon Stanley Higgs, the well-known (and since deceased) Anglican priest, set me off on the trail of the late J. Williams Ogden (1858-1936). "There are some old paintings at Fairview Baptist Church in Vancouver," Canon Higgs had written. "I think you might be interested in them." That letter helped to bring Ogden back into the light of day. His works, I later learned, are scattered all over Vancouver and beyond. His paintings—all of them landscapes, some enormous—are quite good. The one shown here depicts Capilano Canyon. I can't tell you in what year it was painted, but I can tell you it sold in 2005 for more than $10,000.
I visited Fairview Baptist, and was taken on a tour of the Ogden art by Canon Higgs. (The canon, by the way, was a charter member of the Council of Churches in Vancouver, which had its offices in Fairview Baptist, and he had always admired the Ogden landscapes there. That's why he wrote me.)
Vancouver's City Archives has obituary clippings on J.W., noting that the "veteran minister and nationally known artist had died in October of 1936." The Archives also has a letter Ogden wrote to The Province, published August 13, 1928. It's an impassioned attack against "the notorious Group of Seven," a collection of whose paintings had recently arrived from Ottawa. "We know that these 'freakists'," Ogden fumed, "by political influence and press manipulation have, for the time, captured the seats of power in connection with the National Gallery of this Dominion and that good public money is being paid for the purchase of the works of these men."
The late Bob Stewart, of the Vancouver School of Theology, filled in more details on Ogden's life. He was born in 1859 in Batley, Yorkshire, son of a Methodist minister who had young J.W. preaching by the age of 14. (He was ordained in 1883.) He came to Vancouver in 1920 and filled vacant pulpits in several churches: Kitsilano Presbyterian, Fairview Baptist, Chalmers and St. Stephen's United Churches.
I discovered that Ogden's work can be seen outside Vancouver, too. I spoke with the Rev. Clyde Woollard, United Church minister in Kelowna, since deceased. A large Ogden painting, a landscape called An Entrance to the House of God, hangs in the church.
And, in a dusty alcove of the First United Church at Gore and Hastings in Vancouver—thanks to its then minister, the Rev. Art Griffin— I found yet two more paintings (also big landscapes) by this prolific painting minister. One of them, dated 1935, was the last he ever did.