BC Athletes at the 1936 Olympics
Posted by Daniel on Feb 2, 2010
Chuck Davis writes: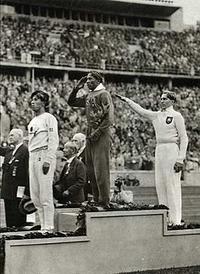 On August 1, 1936 the Olympic Games began in Berlin. Covering the event for The Vancouver Sun was 28-year-old Erwin Swangard (after whom Burnaby's Central Park stadium is named). Sitting in the stands observing the activities: German Chancellor Adolf Hitler.
This is the Olympics usually remembered for the terrific success of Jesse Owens, a 22-year-old Afro-American who won four gold medals, blowing a large hole in Herr Hitler's notions of Aryan supremacy. (The photo above shows Owens on the medal podium, the German silver medallist beside him.)
But Canada was there, too. Victoria's Tom Hawthorn, who writes extensively on sport, told me: "The prominent British Columbians at the Berlin Olympics were three terrific basketball players from Victoria, brothers Art and Chuck Chapman with Doug Peden. The trio were invited to join the national championship team, the Windsor (Ont.) Fords, at the games. Basketball was making its debut as an official Olympic sport . . . the game was played outdoors on a clay tennis court. When it rained, the court became a quagmire. The final game on August 14 pitted the heavily favored Americans against the Canadians. The US won 19-8 in the mud." The Canadians took silver and Peden was the team's high scorer.
"The 1936 games," Tom added, "were captured on a new-fangled invention called television; a closed-circuit telecast carried the Games to the athletes' village."
By the way, the Vancouver Holocaust Education Centre is currently showing a fascinating exhibition about Canada's participation in the 1936 Games called "More Than Just Games: Canada and the 1936 Olympics". Information at www.vhec.org.