A Basketball Legend
Posted by Daniel on Mar 9, 2009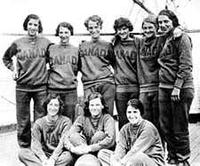 I note that Mary Campbell, the last surviving member of the 1930 UBC world champion women's basketball team, passed away last week (March 4). She was 98.
The UBC women are one of the great stories in BC sport. Chosen to represent North America at the world championship in Prague that September, the team faced France in the final, which was played outdoors on an oversized cinder court in front of 10,000 fans with a referee who spoke no English. The UBC women prevailed 18-14, and returned to Vancouver to a huge welcoming reception at the train station.
Mary Campbell was a phys ed teacher at John Oliver High School for many years. When the team was inducted into the Canada Basketball Hall of Fame a couple of years ago she was on hand to accept the honour.