Clayburn, the Town that Built BC
Posted by Howard on Nov 12, 2012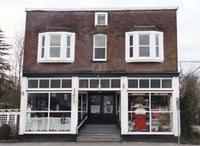 You can almost tell what Clayburn's purpose in life was from its name. Today a suburb of Abbotsford, it owes its existence to high-quality brickmaking clay that was discovered on nearby Sumas Mountain. Charles Maclure, son of John Maclure, a former Royal Engineer and B.C. pioneer, saw an opportunity and built a brick factory on the site in 1905, supplying bricks for the building of such BC landmarks as the Sun Tower, St. Paul's Hospital, the Marine Building and the Empress Hotel before closing due to declining sales in 1931.
What gives Clayburn special significance today is the village the Maclure family built up around the plant to house its workers, the first "company town" in British Columbia. Unlike a lot of later company towns surrounding mills and logging operations, the quality of the buildings at Clayburn was architecturally sophisticated, partly because they were built of brick made in the town's own plant, and partly because they were designed by Charles Maclure's brother Samuel, one of British Columbia's greatest architects. Well ahead of its time, the company provided its employees with water, power, sewers and storm drains. It sponsored a golf club, theatre group, sports teams, and a company doctor at a time when Abbotsford residents sometimes had to go to Chilliwack, Mission, Langley or even Sumas, Washington for medical assistance. After more than a century, Clayburn survives as a distinct neighborhood, redolent of the turn-of-the-century English village with demure homes with neat gardens surrounded by white picket fences. It was designated for conservation as a Heritage Site in 1996. Most notable of the remaining buildings are the Clayburn Church built in 1912 and the Clayburn Schoolhouse built in 1907, both of which are on the register of Canada's historic sites. Visitors can learn about early village life at a small museum in the basement of the schoolhouse.
More about Clayburn: After the original plant burned in 1931, the company built a smaller one on Sumas Mountain at a site known as Kilgard. This plant was later taken over by the Sumas First Nation who operated it as Sumas Clay Products Limited. In 1950 the Clayburn company build a new plant in Abbotsford, which was taken over by an employee-owned company in 1974 and operated until 2011. The company still operates Sumas Shale Ltd., which mines 325 acres of land on Sumas Mountain and also operates factories in the US, China and India. And Samuel and Charles were not the only distinguished offspring of John Maclure. Their sister, Sara Maclure McLagan, became publisher of the Vancouver Daily World in 1901, the first BC woman to hold such a post.