Royal Visit to Vancouver
Chuck Davis writes: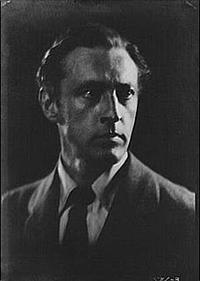 There has been a Barrymore on your silver screens for about a hundred years. There was Lionel, and Ethel and, starting away back with a 1912 movie, John. By the 1930s John Barrymore, known as the "Great Profile," (shown here in 1922) was world famous. He visited Vancouver with his family July 11, 1934. The Vancouver Sun sent columnist Bob Bouchette to interview one of the superstars of his day, and Bouchette found him aboard his yacht Infanta. (It had a crew of 12.) With the 52-year-old Barrymore was his wife Dolores, 30, and their children, Dolores Ethel, three, and 13-month old John Blythe Barrymore.
Barrymore told Bouchette the family was heading for Alaska in search of trout and salmon. "Barrymore," Bouchette wrote, "of the theatre's 'royal family,' gets so cussed tired of painting his nose for the edification of philistines that whenever the opportunity offers he goes fishin'. In this language, Barrymore confessed to me the faint contempt he has for his work and avowed his passion for life on the great open spaces of land and sea."
Later, Bouchette chatted with Barrymore's wife, Dolores Costello, also a famous performer (six movies in 1929 alone). Dolores was holding her son, little John Blythe Barrymore, who would grow up to be a tortured and addictive wreck of a human being who in 1958 changed his name to John Drew Barrymore and who in 1975 would have a daughter named Drew.