Yeeeeoooowwwww!
Posted by Daniel on Sep 25, 2009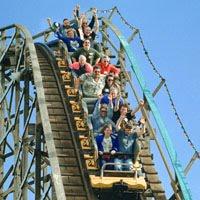 Somehow I missed the arrival this summer of roller coaster enthusiasts from around North America who came together out at Vancouver's PNE grounds in July to designate Playland's giant wooden coaster the 21st "landmark" roller coaster in the world.
The Coaster was built in 1958. Since it already has "classic" status, it becomes the only roller coaster in North America (and one of five in the world) to enjoy both honours. The cars are not motorized, of course. Once they are pulled by chain to the top of the first hill, gravity takes care of the rest. The Coaster reaches a top speed of 75 kilometres an hour and has a maximum drop height of 20 metres, certainly not in the same class as some of the giant coasters that now reach heights of 90 metres but enough to terrify me as a kid when I went on it, clinging to the sides and screaming my little lungs out.