A Forgotten BC Artist
Posted by Daniel on Feb 5, 2010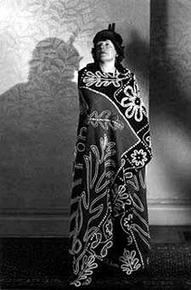 The latest issue of The Beaver has an article on BC artist Mildred Valley Thornton (shown at left in a Vancouver Sun photo in 1949). Here's what we said about Thornton in the Encyclopedia of British Columbia:
(b 1890, Dresden, ON; d 1967, Vancouver) She studied at the Ontario College of Art and the Art Institute of Chicago and began to paint professionally in the 1920s. Like her better-known contemporary, Emily Carr, she became known for her interest in First Nations culture; she completed more than 300 portraits of aboriginal people during her career. In 1934 she moved to Vancouver and worked as an art critic for the Vancouver Sun from 1944 to 1959. She wrote about her experiences among BC First Nations in the book Indian Lives and Legends (1966). Her works are held by the National Gallery in Ottawa, the Glenbow Museum in Calgary, the McMichael Gallery in Kleinburg, ON, and the Vancouver Art Gallery.
The Beaver article, by Shay Wilson reveals that Thornton harboured the hope that the National Gallery would purchase her entire collection of Native portraits and display them for the public to see. When this did not happen she added a codicil to her will directing that the paintings be burned after her death. Although this did not happen, the collection ended up in the hands of different collectors and museums and has never been exhibited together.