Student Project Tells Veteran's Story
Posted by Daniel on Jun 23, 2009
Historian Chuck Davis writes: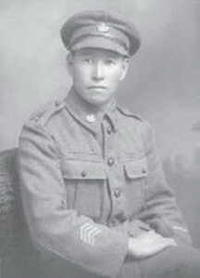 At the last meeting of the Surrey Historical Society on May 9, which dealt mostly with the 1948 Fraser River flooding, there was a short presentation by 14-year-old Paul Gill, a Grade 9 student at Tamanawis Secondary in Surrey, who had written for an Historica event a brief account of the life of Zennosuke Inouye. Inouye was one of the thousands of Japanese-Canadians forced into interior camps in 1941 after the attack on Pearl Harbor.
But his story ended uniquely.
Paul's presentation had made a very good impression at Historica, and won the Local History Award. That's what led to his appearance at the Surrey Historical Society.
He told us that Zennosuke Inouye came to Canada from Japan in 1900, and in 1916 enlisted in the Canadian Expeditionary Force. The next year he was wounded in France. After the war he was one of the many beneficiaries of the Soldier Settlement Act (1919), which provided land on favourable terms to qualified Canadian veterans. He bought 80 acres of wild, undeveloped land on Sandell Road in Surrey.
Inouye worked on clearing and developing the land and he and his wife had five kids there. But when the expulsion order came, the family was forced to move to an interior camp. The custodian of enemy property sold Inouye's land and the properties of hundreds of other Japanese Canadians to the director of the Veterans' Land Act, who was banking land for distribution to veterans of the Second World War once the conflict was over.
Inouye, who had fought for Canada in the First World War, was outraged. "I cannot refrain," he wrote one official, "from resenting your action of taking away valuable property from a pensioned returned soldier of the last war who fought for Canada for the purpose of giving the same to another soldier who is returning from the present war."
He fought the decision vigorously, wrote letters to the prime minister and other government officials . . . and won. He got his property back, the only Japanese-Canadian veteran to recover property from the Government of Canada.
You can read more at http://members.shaw.ca/brownja/inouye.html.