Sir John A. and British Columbia
Posted by Daniel on Jan 11, 2010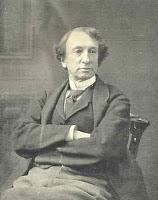 Happy Birthday wishes go out to John A. Macdonald, Canada's first prime minister, born on this day (Jan. 11) in Glasgow in 1815.
Though he was best known as an Ontario politician, Sir John does have a connection to British Columbia. Following five years in opposition, shamed by the Pacific Scandal, Macdonald's Conservative Party won re-election to government in 1878. Macdonald lost his own seat in Kingston, though, and had to find somewhere else to represent. This turned out to be Victoria, where he won a subsequent byelection. He represented the city in Parliament for four years without actually ever visiting.
His first visit to our province occurred in 1886. The transcontinental railway had just begun passenger service that June. Macdonald had hoped to be aboard the inaugural run from Montreal to the West Coast but official business kept him in Ottawa. As a result it was Saturday, July 10, when the prime minister, his wife Agnes, his personal secretary Joseph Pope, a police guard and two secretaries embarked at the Ottawa rail station on board a special train bound for Port Moody, then the CPR's Pacific terminus.
The trip took two weeks -- Sir John did a lot of politicking along the way -- and as the train wound its way through the mountains he and Agnes sat out on the cowcatcher in front of the engine drinking in the scenery. From Port Moody they travelled by steamer to Victoria which they reached late in the evening on July 24 and where they remained for three weeks.
While in Victoria, the Macdonalds stayed at the Driard Hotel, reputed to be the city's finest. Among the prime minister's official duties during his visit was to preside at the official opening of the Esquimalt and Nanaimo Railway. Macdonald drove the last spike himself at Cliffside on Shawnigan Lake on August 13.
The Macdonalds arrived back in Ottawa after another leisurely crossing of the country on August 30, having travelled close to 10,000 kilometres. In 1982 a statue of Sir John was installed outside Victoria City Hall.