Bridge Openings
Vancouver historian Chuck Davis writes: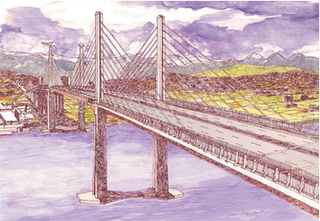 The big new Golden Ears Bridge (pictured above), connecting Surrey and the south shore of the Fraser to Maple Ridge, opened to vehicular traffic on June 16 and my wife Edna and I drove over it that day just to say we had. It's a big, handsome structure, a kilometre long and cost $800 million. Tolls go on in mid-July. We stopped for an ice cream treat on the north shore, then turned back.
It took me back to December 8, 1985 when the current Cambie Street Bridge opened, with Mayor Mike Harcourt presiding. I was there in the crowd with my daughter Stephanie, 13 at the time.
Some people wait, often for hours, to be the very first to cross a new bridge. My records, alas, don't show who was the first to cross the original Cambie Street Bridge. It was demolished when the 1985 bridge went in. (The 1912 span was actually the second over that stretch of False Creek. The first, a two-laner built in 1891, cost $12,000. The second, with four lanes, cost $740,000. The third and present six-lane bridge, the 1985 one, cost $50 million—some 4,167 times the cost of the first.)
At 8:50 a.m. on November 12, 1938, the Lions Gate Bridge was opened to pedestrian traffic. The first "civilian" to cross the bridge appears to have been one R.F. Hearns of Caulfeild in West Vancouver. Hearns, called a "bespectacled but sprightly" retiree by the Province, wasn't supposed to get on to the bridge until the official opening time of 9 a.m., but a soft-hearted gateman heeded his plea that there was snow on the ground and it was awfully cold, and let him pass. Hearns held ticket No. 2, cost five cents. Ticket No. 1 was possessed by 75-year-old Mary Sutton, who had risen at 6 a.m. and walked to the bridge through the snow from her home at 1665 West 7th. "When I was halfway across Granville bridge," she told Province reporter Stuart Keate, "a young fellow came along and gave me a lift. I arrived at the Lions Gate at a quarter to eight." She didn't set out to walk across the bridge until exactly 9, so, after solemn deliberation we have to give the palm to Mr. Hearns.
On February 12, 1954 the first to drive over the brand new and present Granville Street Bridge (the third) was the same woman who was first to drive over the second bridge when it was new in 1909. She had been widowed in between the two openings, and so had a different name . . . but both times she was at the wheel of a brand-new Cadillac!