Memories of Early Abbotsford by Frank White (b. 1914 Sumas, WA)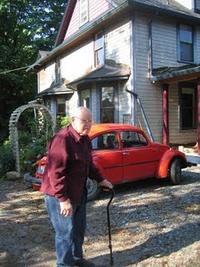 I sometimes stop at the corner of Hazel and Railroad streets and try to see that area as it was when we moved to Abottsford in 1919. There was no railroad crossing, except at Yale Road, soon to be renamed Essendene Avenue.
A long wooden trestle emerged from a ravine now filled and covered by a small shopping mall, crossed Montrose St. and ended at Railroad St. It carried the tracks used by the Trethewey's mill to ship their timber products to the far corners of the world. They were known to us as the "dinky" tracks and the two small locomotives that ran on them were the "dinkies". One time a group of us youngsters somehow got the idea of placing a timber across the dinky tracks and derailed the thing. Oh boy, there was a lot of commotion about that, but we managed to avoid getting caught.
We lived in the second house west on Hazel St. At that time a stream, which started in a marshy spot just below Mill Lake and ran through a deep ravine beside the dinky tracks, joined a stream flowing north beside what is now Montrose Ave. and flowing north, crossed the field next to our house where we played and I where I first saw salmon.
We now come to the story I started out to tell.
Flats there now covered by a brick plant were covered then by a heavy growth of broom and wild hazel bushes. I suppose that the area had been cleared and levelled for some kind of camp and shop during the building of the B.C.Electric and the C.P.R. spur a few years earlier.
Scattered through the brush were relics of these former activities and among them was a water tank off some ancient locomotive. This tank was huge and had served as a shelter for various homeless characters from time to time.
Jack Copping owned the next field and decided to clear the stumps by dynamiting them with stumping powder. We boys became a very interested audience.
In those simple days, at the end of a working day it was enough to put the box of powder under a piece of blasted stump, out of the rain, and then do what ever thirsty blasters did after work.
I do wish that I could remember who all was there, but all I can say is that there were four or five of us, all aged about ten or twelve. We had by this time become quite knowledgeable about the process of setting off blasts and at the first chance helped ourselves to a representative sample of supplies: caps, fuse, and eight or ten sticks of twenty-percent blasting powder.
In the fastness of the bushy jungle we felt safe to pursue our research into various causes and effects, now focused on noise.
After a few tentative shots, someone proposed dropping a small shot in the old locomotive tank to see what would happen. A quarter stick was prepared with cap and fuse, and I might add, carefully crimped together using the technique we had watched the blaster use, by biting the cap between our teeth. I'm not sure we knew it then, but if you bit down too close to the hot end of the cap, you would lose your head.
The fuse was lit and the charge dropped down the manhole. Now seventy years later I can still feel the excitement as we scurried to find cover, having no idea what was going to happen. It seemed forever before we were rewarded with the most gratifying ka-boom we had ever heard. The old tank acted like an enormous drum and we watched in awe as a great smoke ring rose in the air, higher and higher.
The smoke ring was an unexpected bonus and became the centre of our interest. With such success to our credit it was only natural to pursue the research with vigor and naturally, next a half stick, and of course, soon a full stick.
In our single-minded pursuit of science it had not occurred that others might also have an interest in our research.
It happened that the police station was only what would now be a couple of blocks away and that the magistrate, George Pratt, was holding court that afternoon. He became curious as to the source of the interruptions to Her Majesty's proceedings. At last he dispatched a spare officer to investigate.
Cars were much noisier in those days and we heard the emissary of justice approaching long before he came into sight. Of course the officer had no idea of what he was looking for and we watched from our jungle as he searched around the open area. After satisfying ourselves our tracks were safely covered, we slipped away, not wanting to bother him in his duties.
I have often wondered what his conclusions were and what he reported to the court.