RIP: Duthie's Books
Posted by Daniel on Jan 20, 2010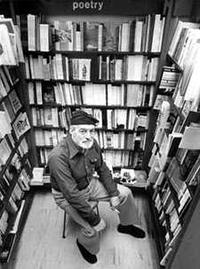 The announced closure of Duthie's Books at the end of February is like hearing about the death of an old friend.
When I was a kid growing up on Vancouver's West Side, the Duthie's branch on 10th Avenue was my home-away-from-home almost from the time I could read. I used to go in to admire David Duthie's immaculate wardrobe as much as to peruse the books. David, who managed the store, was the brother of the chain's founder, Bill Duthie (shown above in 1977), and was always very tolerant of a young customer without much cash to spend on books.
For one of my teenage birthdays my grandmother gave me a $25 gift certificate to the store. It allowed me to buy so many paperbacks that I couldn't carry them all. Times have changed. That 10th Avenue store closed years ago and Duthie's shrank to a single, very good, outlet. Like everyone else I buy my books from a variety of places now, including online.
Still, I find it depressing to think that a city as large and sophisticated as Vancouver cannot support a quality independent bookstore.