Vancouver's Taj Mahal
Chuck Davis writes: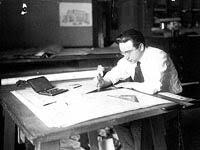 The magic of what architect Benjamin Marcus Priteca created for theatre goers in Vancouver's Orpheum Theatre was captured in a Denny Boyd column in the Sun October 31, 1985. Denny began, in a comparison that would have mightily pleased the architect, by remembering his first view of India's Taj Mahal: "I think the only other time I felt such a hammer blow of awe," he writes, "was when I was seven and I approached the box office of the Orpheum Theatre for the first time with a King George V dime in my sweaty little fist.
"That dime took you up the lushly carpeted stairway of the massive Orpheum foyer into the world of imagination where animals spoke, Tarzan roared, children squealed with laughter and bad guys always got it before the closing credits . . . The rose-red carpeting led to the dramatic split stairway to the upper foyer, light cascading down from the chandeliers and the wall sconces. There were balustrades and ornate arches, pillars and colonnades, coffered and domed ceilings . . ."
The man who designed the Orpheum—which opened in 1927—to both dazzle and welcome was a Seattle architect named B. Marcus "Benny" Priteca (pictured here at his desk c.1916), who had been creating spectacular theatres like it since 1910.
The now-vanished Pantages Theatre on Hastings Street was Priteca's first venture into Vancouver. That spectacular 1,800-seat theatre, which opened June 17, 1917, was later called the Majestic, then the Beacon and finally the Odeon Hastings. Its demolition in 1967 outraged Vancouverites, and has been called a rallying point for later public support for the Orpheum's preservation.
Priteca referred to the elaborate style of the Orpheum as "conservative Spanish Renaissance." But he borrowed from a dozen different places: the ornate ceiling of the Orpheum lobby, for example, is apparently based on one he saw and admired in India! The organ screens are Moorish North African; the ceiling arches in the auditorium are Gothic; the ceiling itself and its dome and the chandeliers are Baroque, and the wall coverings imitate those of the 19th century in France!
B. Marcus Priteca died at 81 in Seattle October 1, 1971, too soon to see that one of his greatest creations, Vancouver's Orpheum Theatre, would survive and thrive.
A much fuller story on Priteca, the Orpheum, Peter Pantages and more can be found at www.vancouverhistory.ca