Premier McBride's Navy
Julie Ferguson writes: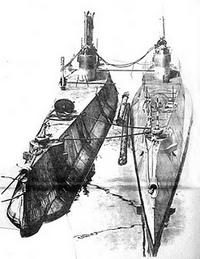 Canada's navy celebrates its centennial in 2010, May to be precise, and events run throughout the year. British Columbia has much happening and a rich history within the navy to remember.
On the eve of World War One, four years after the navy was created, an undefended British Columbia bought two submarines (pictured above) with provincial funds. After their purchase, the boats made a clandestine escape from a Seattle shipyard in the dead of night crewed by a handful of Canadian sailors. Soon the submarines became known as "McBride's Navy" in honour of the premier who dared to acquire them without authority.
The two vessels, originally built for Chile, appeared insignificant as they crept into Esquimalt harbour around breakfast time. The naval ship on lookout duty in Juan de Fuca Strait took one look at the unusual craft, failed to challenge them, turned tail, and ran at full speed for the harbour entrance. An eyewitness reported she "went round the corner off Fisgard Light, and bloody near skidded" as she signalled "Two German torpedo boats approaching…." The Black Rock gun battery rammed home their shells and waited for the boats to sail within range. By now, the guard ship had alerted the entire dockyard – she came in "wailing like a banshee" with the lanyard of her siren tied to a rail.
No naval band played "Heart of Oak" to mark the historic birth of the Canadian Submarine Service, no flags fluttered in the breeze, and no crowd cheered. Only two men stood on the jetty to greet the new arrivals – one was Premier McBride. He stood in the warm sunshine with his chest puffed out and a broad smile on his lips. He was overly pleased with his accomplishment that secured his province in the nick of time from German cruisers threatening the Pacific coast.
To read more about Canada's first submarines go to www.beaconlit.com/cdnsubs.html. For more details of the navy's centennial celebrations, please visit http://www.navy.forces.gc.ca/centennial/3/3-c_eng.asp?category=107&title=351#CentennialWeek
© Julie H. Ferguson 2009