Eric Nicol Passes
Posted by Howard on Feb 7, 2011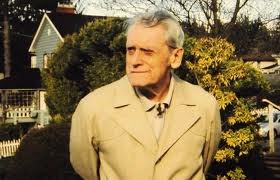 Eric Nicol, one of Canada's greatest humourists and one of the few Canadian playwrights to have a work produced on Broadway, died Feb 2 at the age of 91. Nicol was best known for his daily column in the Vancouver Province, which he kept up from 1951 to 1986. He also wrote 40 books and won the Leacock Medal for Humour three times. He was the first recipient of the George Woodcock Lifetime Achievement Aawrd for British Columbia Literature. Following is the eulogy delivered at Nicol's funeral by the well-known sportswriter and humourist Jim Taylor, winner of this year's Bruce Hutchison Prize for Excellence in British Columbia Journalism :
Coming here from the church, I thought how amused Eric would have been that the start of the service coincided, almost to the minute, with the opening kickoff of the Super Bowl.

He would have had a line for that, delivered in his usual self-effacing, soft-spoken manner, and I would have put a smile on our faces, because that's what Eric did. His humour wasn't the knee-slapping, guffawing kind. With Eric, you had listen, and read all the words. He did what we all strive to do and he did it brilliantly: he made the words work.

I attended the Eric Nicol School of Journalism for two years. This would come as a great surprise to Eric, because there never was an Eric Nicol School of Journalism. He'd be surprised to hear that he taught classes there, and to learn that he gave me the final nudge into a writing career – 20 years before we met.

I was in Grade10 in Winnipeg. We had a teacher who would read to us if we got our work finished early, and the books he read from most were Sense and Nonsense and The Roving I, by this guy Eric Nicol who wrote a column in the Vancouver Province. And I found myself thinking how great it would be to be able to do that, to make people laugh and think and react. And I jumped into the journalism class.

Flash forward 20 years. By some fortuitous coincidence, Eric's son, Chris, and my son, Chris wound up on the same soccer team, the mighty Nightingale Pharmacy. They were eight or nine. Every Saturday morning, Eric and I would lean against the schoolyard fence, watching our kids and occasionally shouting something profound like "Go, Nightingales, go!" – and I would go to school.

We'd talk about writing, about style, about the columns he'd written. He probably never knew class was in session, but it was. And one day he gave me a piece of advice I've never forgotten.

I'd just been given the front page sports column in the Vancouver Sun.

"How many you going to write?" Eric asked.

"Five a week," I said.

"Good," he said. "Two will be garbage. No one can write five good ones a week. But here's the thing: it's got to be the best garbage you've got in you."

Eric, of course, was writing five a week in those days. I read them all, and now I looked for the two he might consider garbage. I never found them.

The word "great" is much over-used in the media. On the sports pages it's beaten to death. But make no mistake, we are saying goodbye to one of the greats.

When media people pass, the cliché is that they're up in a great press box in the sky. I don't know about that. But if there is one, I can see Eric, amid the clatter of the typewriters and computers, sitting quietly in a corner with his pad of copy paper and his pencil – which is how he always wrote --- working on his next column, while all the others are looking over and saying:

"Can I see …?"

"Can I see…?"


-30-

Jim Taylor