Historic Chinatown Building Becomes Gallery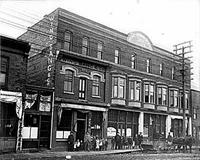 Vancouver realtor Bob Rennie opened his private collection of contemporary art to the public this weekend at his new gallery in Chinatown. The gallery is located in the Wing Sang Building on the north side of East Pender, shown here as it looked in the early 1900s (City of Vancouver Archives CVA 689-9)
Built in 1889, the Wing Sang building is thought to be the oldest in Chinatown. When it was built, Pender Street was known as Dupont Street and until about 1906 it was the young city's red light district. Brothels operated up and down the street until they became an embarrassment to city officials who forced them to close and move elsewhere. False Creek was much larger in those days and at high tide the water lapped at the foundations of the buildings on the south side of the street.
The Wing Sang Company was an import-export operation founded by Yip Sang, who came to BC from China via San Francisco, in 1881. The company became one of the wealthiest businesses in Chinatown and Yip Sang became one of the neighbourhood's most prominent citizens, an active philanthropist as well as a successful merchant. He died in 1927.
Over the years the building has housed shops, offices, two Chinese restaurants, a bakery and a travel agency. It is actually two buildings, a three-storey structure in front and a six-storey building behind. The back building, completely renovated, is where Mr. Rennie's gallery is located, while his offices are in the front.