Percy Williams, Homegrown Olympic Hero
Posted by Daniel on Nov 20, 2009
Vancouver historian Chuck Davis writes: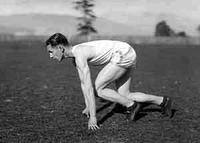 When Percy Williams (seen above in Vancouver Public Library photo 22711) came home to Vancouver in September, 1928 the city went a little nutty. What Williams, a King Edward High grad, had done—and what no Canadian track and field athlete has done since—was to win two individual Olympic gold medals at the same games. He came out of nowhere at the 1928 Amsterdam Olympics to win both the 100-metre and the 200-metre races.
BC premier Simon Tolmie called his reception "Perhaps the most remarkable home-coming in the history of British Columbia." Thousands of people jammed Granville Street from the CPR station to Georgia Street to cheer for 20-year-old Percy. "The demonstration affected spectators," one newspaper reported, "to such an extent that they tore up the contents of waste paper baskets, and sent the fluttering scraps out over the crowds as confetti."
Percy's race wasn't a fluke: He won the world record for the 100-metre dash in 1930, a couple of years after the Olympics, and held it for a decade. Only an injury kept him from succeeding at the 1932 Games.
But he was shy and reclusive. "I didn't like running," he told a reporter once. "Oh, I was so glad to get out of it all." He never married and his later years were marked by constant pain from arthritis. On November 29, 1982, at age 74, he took his own life.