Champagne Safari
Posted by Daniel on May 22, 2009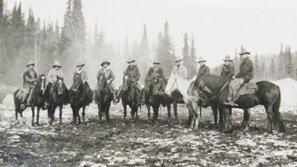 If you are planning a trip to the northeast corner of the province this summer, be sure to stop in at the Hudson's Hope Museum to see the exhibit on Charles Bedaux's infamous 1934 "Champagne Safari".
Bedaux was a French-American industrial efficiency expert who used his large personal fortune to engage in quixotic adventures. One of these was the Bedaux Sub-Arctic (Citroen) Expedition, a wacky attempt to cross northern BC by motor vehicle before there were any roads.
Using a small fleet of Citroen half-tracks, and a large number of local packers to do the heavy lifting, Bedaux and his party, which included his wife, his mistress and a Spanish maid, travelled from Edmonton westward up the Peace River and into the BC mountains. Before long they abandoned the vehicles and proceeded by horseback as far as Sifton Pass where they gave up altogether.
The Museum has collected a wonderful selection of photographs as well as testimony from some of the local cowboys who took part and are the actual focus of the exhibit, which runs from May 24 until September 30. There is also some film footage of the expedition. The museum website is http://www.hudsonshopemuseum.com/. Jim Christy wrote an excellent biography of Bedaux, The Price of Power (1984).