The Covid-19 Pandemic in British Columbia
Posted by Howard White on Sep 9, 2020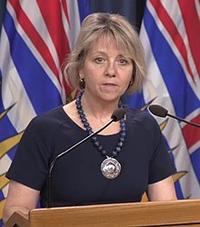 COVID-19 PANDEMIC of 2020 began in BC on January 28, 2020 when the first case of acute respiratory syndrome coronavirus 2 (SARS-CoV-2) was confirmed in a patient recently returned from Wuhan, Hubei, China. The first case of SARS-CoV-2 caused by transmission within the province was reported on March 25, 2020. The first death from SARS-CoV-2 in BC and in Canada occurred at the Lynn Valley Care Home on March 9. As of September 8, 2020 the BC Centre for Disease Control had confirmed 6,591 cases, 4,978 recoveries and 213 deaths.
In general BC fared better than most Canadian provinces over the first 8 months of the pandemic and substantially better than adjacent Washington State, which reported 2,046 deaths over the same period. The government of Premier John Horgan and particularly Health Minister Adrian Dix and provincial health officer Dr. Bonnie Henry received much credit for their firm handling of the crisis. On March 17, classes in K-12 schools were indefinitely cancelled. On March 18 the government declared a province-wide state of emergency. Many classes of public-facing businesses were ordered to close, including bars, nightclubs, indoor restaurants, barber shops, beauty salons, spas, tattoo parlours, children's playgrounds and provincial parks. Gatherings of over 50 people were banned. On March 25 the provincial legislature adjourned indefinitely after passing an aid bill. In response to a severe economic slowdown and soaring unemployment, the government imposed a rent freeze, banned evictions and brought in a $500 monthly rental rebate.
Major events were cancelled across the province including the PNE, the Celebration of Light, the Vancouver Pride Parade and the Sunshine Coast Festival of the Written Arts. The Vancouver Aquarium closed to the public on March 17, reopened in June then closed indefinitely on September 8. With new infections and deaths decreasing, Premier Horgan announced a 4-phase reopening plan on May 6, beginning with BC Parks facilities and followed by non-essential businesses, cultural and health facilities. On June 24 Premier Horgan announced phase 3 of the reopening, allowing residents to travel within the province and allowing most of the remaining non-essential businesses to reopen. In the second half of August as residents swarmed beaches and began relaxing social distancing precautions, infection figures once again moved upward, reaching record levels and raising concerns of a second wave as students returned to school in the fall.