Vancouver Books 2010
Posted by Howard White on Jul 20, 2011 -
4 comments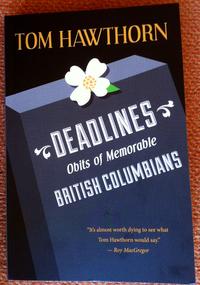 This list of books about Vancouver published during 2010 was prepared by Karen Cannon.
VANCOUVER BOOKS 2010
Aronsen, Lawrence. City of love and revolution: Vancouver in the sixties. If you weren't in Vancouver during the sixties, Aronsen takes you back in this illustrated account to the hippie days and lifestyle which spread north from San Francisco.
Atkin, John. The changing city: architecture and history walking tours in central Vancouver. Some thirteen areas of downtown Vancouver are covered as Atkin introduces recent development, some classic Modernism and local heritage in the guide and walking tour. Guide maps are provided.
Basran, Gurjinder. Everything was good-bye: a novel. Meena, a young Indo-Canadian woman growing up in the Lower Mainland, struggles with her identity and independence in a Punjabi community. 2010 winner of the Great British Columbia Novel Contest.
Body heat: the story of the Woodward's redevelopment. Edited by Robert Enright, architecture by Henriquez Partners. The story of the redevelopment of the Woodward's department store (which closed in 1993) from "Woodsquat" into a complex of multi-use buildings. Well-illustrated.
Burrows, Bob. Hope lives here: a history of Vancouver's First United Church. Burrows, a United Church minister for fifty years, tells the story of First United Church at Gore and Hastings Streets, which has been ministering to the changing needs of the neighbourhood for 125 years.
Cramp, Beverly. Pacific National Exhibition: 100 years of fun. The Vancouver Exhibition Association ran the first fair at Hastings Park from August 15 to 20, 1910. This history, told in decades, is filled with historical photographs.
Douglas, Greg. Canucks at forty: our game, our stories, our passion. Follow the team's rich history since 1970 with photos from the team's archives and commentary from coaches and players. And no, there is nothing about the 2011 Stanley Cup and its riots.
Keller, Betty. A thoroughly wicked woman: murder, perjury and trial by newspaper. In November 1905, Thomas Jackson was poisoned in his home in the west end of Vancouver. Suspicion fell on four people living in the house. Accounts by the newspapers of the day, which were locked in a circulation war, kept the murder on the front page for weeks.
Proctor, Sharon J. Time travel in North Vancouver: a peek into the past. This guide around North Vancouver City and District looks at specific addresses and sites and compares vintage photographs with present-day ones.
Ryan, Denise. Nettwerk: 25 years of music we love. Founder of Nettwerk, Terry McBride, tells all about the founding of one of Canada's best known indie record labels; from his bedroom to the world-wide company it is today.
Takao Tanabe: Sometime Printer. Designed and produced by Robert R. Reid for the Alcuin Society. Tanabe, born in British Columbia, is an accomplished painter. In the 1950s, while in Vancouver, he worked for a short time with Robert Reid at his printing shop on West Pender Street, and later, established Periwinkle Press in 1963. This beautifully produced book celebrates Tanabe's expertise in the art of true letterpress printing.
Vancouver Organizing Committee for the 2010 Olympic and Paralympic Winter Games/Comite d'organisations des jeux olympiques and paralympiques d'hiver de 2010 a Vancouver. With glowing hears: the official commemorative book of the XXI Olympic Winter Games and the X Paralympic Winter Games=Des plus brillants exploits: le livre commemorative official des XXIes Jeux olympiques d'hiver et des Xes Jeux paralympiques d'hiver. Highlights and behind-the-scenes moments of fifteen Olympic and five Paralympic sports. Names of the medalists, athletes and the Olympic/Paralympic workforce, and the volunteers are included.