Highway Leads to Langley
Posted by Daniel on Feb 24, 2010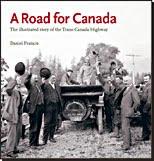 I was out in Langley last evening speaking to the folks at the Langley Heritage Society about my book, A Road For Canada, about the history of the Trans-Canada Highway (pictured above).
I learned that the Langley museum is facing the possibility that it might have to shorten its hours because of budget cutbacks. People at the meeting were naturally bewildered that governments that can afford to pay for multi-billion dollar extravaganzas such as the Winter Olympics cannot find a few dollars to fully fund local heritage facilities.
If you are interested in what the Heritage Society is up to, visit the website here.