Subterrain Celebrates Vancouver Writing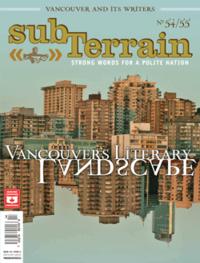 Looking for a cure for that post-Olympic hangover? For another dose of civic pride, pick up the new double issue of Subterrain magazine at your local newsstand.
Titled "Vancouver's Literary Landscape", the magazine devotes all its attention to the city's writers, past and present. There are essays on a variety of subjects from a variety of authors, including a longish tour of literary landmarks by Deep Cove's Trevor Carolan and a piece on women poets of the Terminal City by Heidi Greco.
If you don't know it, Subterrain has been publishing "strong words for a polite nation" (its motto) since 1988. Kudos to editor Brian Kaufman and his staff for this special issue, which also ushers in a "new look" for the mag.