Rolf Knight Chronicled the BC Working Class
Posted by howard on Jul 19, 2019
TOM HAWTHORN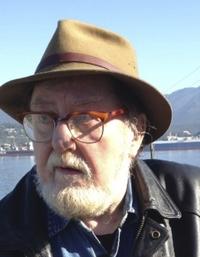 Rolf Knight abandoned an academic career of great promise to write histories of the working people in his home province of British Columbia. He produced a dozen books while earning a living of sorts as a taxi driver.
Mr. Knight, who has died at 83, laboured mostly in obscurity, though his books are now praised for the insights they offer into working life.
Eight years ago, his memoir of the bustling Vancouver waterfront was reissued as part of a celebration of the city's 125th birthday. For the quasquicentennial, his Along the No. 20 Line was one of 10 out-of-print books to be reprinted.
A notoriously grumpy man, Mr. Knight did not care for the description of his 1980 book as a "lost gem."
"God knows what that means," he said. "That's the kind of puffery that booksellers put out."
Like any author, he wanted his words to be read. Unlike some, he was unwilling to perform tricks to make that happen.
"He was crusty. Difficult. Cantankerous. Questioned everything," said Rolf Maurer of New Star Books, which published several of his titles.
"He could have been a superstar in his field of anthropology. Instead, he did a 'take this job and shove it' in the 1970s. He refused to let anybody do his thinking for him and for that he suffered financially."
In 1974, Mr. Knight wrote his first book, A Very Ordinary Life, which described the tribulations endured by his mother from her early life in Berlin to gold-panning in the B.C. Interior to a succession of gruelling and low-paid jobs in camps and the city. Three years later, he quit a tenured position as associate professor in Toronto to dedicate himself full-time to research and writing.
By then, Mr. Knight, an independent socialist, was disgruntled by the intellectual indifference of his students and the narrow-minded obsessions of faculty members. He would also be unsatisfied by the publishing world and the reaction to his books.
"Some people just can't tolerate the imperfection of the world, and Rolf was the most extreme example of that I ever met," said Howard White of Harbour Publishing. Though Mr. Knight could be a curmudgeonly character, Mr. White considered the independent-minded writer to be erudite and good company in a relaxed social setting.
Born in Vancouver on March 4, 1936, Mr. Knight had a peripatetic childhood with his German immigrant parents. His father, Alois Knight, known as Ali, worked as a cook. His mother, the former Phyllis Golm, served food to work crews in the province's isolated logging camps and mining towns.
His earliest memory was being four years old and living in a room at the rear of a camp cookhouse on an inlet of the Queen Charlotte Islands, now known as Haida Gwaii. His outdoor playground smelled of a salty sea and fresh-cut cedar, while he was warned away from the oily perfume of heavy machinery in the camp. He was the only child on site. So starved were the men for entertainment, a logger once slipped him a small plug of tobacco and told him it was licorice.
The family bounced between camps and the city until his mother tired of the exhausting routine of working seven days a week. She remained in the city while her husband worked elsewhere. When he was in the city, he sometimes earned a few dollars by losing the opening bout on a professional wrestling card at the Exhibition Gardens.
At 14, Rolf got a job as a mess boy and baggage handler aboard the Gulf Wing, a Second World War sub chaser converted into a passenger-freight boat serving coastal camps and outports. The following summer he built roadside campsites with a trail crew based in Kamloops and later earned his first union wage by helping to build the giant aluminum smelter at Kitimat, where he wrote his final high school exams, barely passing.
At the University of British Columbia, Mr. Knight, who considered himself regarded as an "injudicious gadfly" by his professors and fellow students, found reward for his intellectual curiosity. He earned an undergraduate degree and completed a master's in anthropology in 1962 after winning an exchange student competition to Nigeria. He also did anthropological field work in the semi-permanent Cree settlement of Nemiscau in Northern Quebec and among the sugar-cane workers in the Cauca Valley of Southern Colombia, "a bloody dangerous place to wander around in." He completed a doctorate at Columbia University, in New York, in 1968.
He taught at the university before taking teaching positions at Simon Fraser University, in the Vancouver suburb of Burnaby, at the University of Manitoba and at the University of Toronto.
His books amounted to a library of reminiscences and oral histories about working life, eschewing the romanticism that can be found in writing by people unfamiliar with the rigours of physical grunt work and the paltry sums such labours generate. In 1976 he released A Man of Our Times, a thin volume about the life of a Japanese-Canadian fisherman. This was followed by Stump Ranch Chronicles and Other Narratives (1977), about loggers and homesteaders in B.C.'s Columbia Valley.
More than a decade of accumulating facts and stories resulted in Indians at Work (1978), an eye-opening account of Indigenous economies following contact with Europeans. The book was revised and reissued in 1996, remaining an essential examination of wage work by "generations of Indian loggers, longshoremen, teamsters, cowboys, miners, farmers, fishermen and cannery workers."
A biography of Homer Stevens, a Communist who led the fishermen's union, was nominated for a B.C. Book Prize the year after it was released in 1992.
A memoir recounting his working and academic life, Voyage Through the Mid-Century (1988), bristles with his frustrations at a world in which a working life is either romanticized or ignored.
Mr. Knight spent years in the blue-and-white livery of MacLure's Cabs. "I wasn't driving cab to learn anything," he wrote, "I just couldn't find any other work." In time, he became exhausted by the "petty thugs, degenerates and lunatics" he ferried as passengers, though he nursed a particular disdain for "boozed up high rollers" and Air Canada crews, whom he found to be reactionary and insulting.
Mr. Knight, who suffered ill health following a stroke some years ago, died on June 22. He leaves the former Carol Johnstone, his wife of 51 years, who usually typeset her husband's books and supported him through her regular job at a university.
Two years ago, he won the prestigious George Woodcock Lifetime Achievement Award for an outstanding literary career. It came with a welcome $5,000 cheque. In his remarks on accepting the award, Mr. Knight thanked the librarians of his youth who directed him to the works of George Orwell, Upton Sinclair and others. He also grumbled about having had to self-publish 500 copies of Traces of Magma, an annotated bibliography of left-wing novels, which was utterly ignored upon its release in 1983.