Film Recalls Historic Vancouver Baseball Team
Posted by Howard on Oct 7, 2014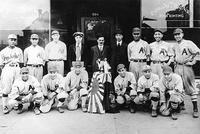 A new Film Screened at the 2014 Vancouver International Film Festival revives a curious fact about BC sports history, namely that in the early years of the twentieth century the game of baseball was dominated by a team made up of Japanese Canadians.
This year, the story will be retold, getting a big-budget treatment from Japan.
From the EBC entry on Asahi:
"ASAHI was an amateur baseball team composed of members of Vancouver's Japanese community. Founded in 1914, it routinely won the championship of whatever senior league it joined. The best known of several local Japanese baseball clubs, it toured Japan in 1921 and was a source of pride for the city's beleaguered Japanese Canadian community. The team played its last game in 1941; it disbanded with the relocation that occurred the following year. Asahi means "morning sun." In 2005 the team was inducted into the BC Sports Hall of Fame."
The story of the team has been told on film once before in the 2003 NFB documentary Sleeping Tigers: The Asahi Baseball Story. Now it is the subject of a Japanese-made feature film, The Vancouver Asahi (Bankuba no Asahi, formerly entitled The Rising Sun Over Vancouver). A Japan-Canada coproduction directed by Ishii Yuya, the film follows the stories of nisei (second generation) players who struggle against racism and poverty in their lives, as well as intergenerational tensions.