The Inventor of God's Country
Posted by Daniel on Oct 28, 2009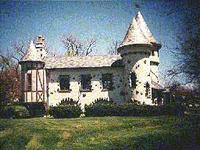 No, this is not Fantasy Gardens. It is, instead, Curwood Castle, home of the popular novelist James Oliver Curwood in his hometown of Owosso, Michigan. Curwood, who has an indirect connection to BC, built the castle in 1922 and lived there for five years, writing in one of the turrets, until his death at the age of just 48.
A few years before the outbreak of World War One, Curwood, who was just beginning to gain fame as a writer, engaged with the government of Canada to be, in his words, "a prairie and wilderness free-lance". The government paid him $1800 a year, plus expenses (about three times the income of a working family at the time) in return for which he travelled around the country gathering material for a series of articles and stories that would attract new settlers. The pre-war immigration boom was at its height and government officials figured that a writer of Curwood's stature would be able to sell newcomers on the "Last, Best West", i.e. Canada.
Curwood invented the term "God's Country" to describe the Canadian wilderness. It is more an imaginary place than an actual geographical location. Curwood once described it as "the land where the lean wolves run", which gives you some idea of his literary style.
In 1918 he teamed up with the filmmaker Ernest Shipman and his wife Nell, an actress. Nell was born in Victoria in 1892; that's the BC connection. Her real name was Helen Foster-Barham. As a child she moved to Vancouver, then to Seattle, where she joined a touring vaudeville company. While still in her teens she married Shipman, a theatrical promoter from eastern Canada, and entered the film business. After starring in a silent film based on one of Curwood's stories, which she also directed and produced, she became known as "the Girl from God's Country" and shot to fame.
Curwood's partnership with the Shipmans only lasted for one movie, Back to God's Country, released in 1919. The couple separated soon after and the deal lapsed. Curwood went on to make a couple more movies of his own and the God's Country theme inspired several by other directors. Meanwhile, Nell's popularity as a film star faded with the introduction of talkies.
And the castle? It is now a museum operated by the city of Owosso and open to the public.