Anna Pavlova in Vancouver
Posted by Daniel on May 2, 2009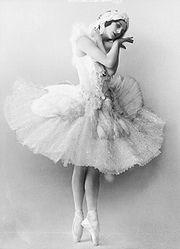 Vancouver historian Chuck Davis reports:
One of my favorite local showbiz stories tells of Anna Pavlova, the most famous woman dancer who ever lived, performing in Vancouver November 17, 1910. The audience went gaga. Reviews went beyond rave, flirted with worship.
Pavlova (the photo above shows her in 1905) returned the enthusiasm. She described that first visit to the city (she made three in all) in a short autobiographical note, Pages Of My Life.
"We stayed at little towns in Canada; at Vancouver among other places. An incident which took place there, although trifling, amused me greatly; it illustrates the delightful courtesy of the Canadians. After having danced at the theatre, I wished to go and have some supper at a restaurant. I found every table occupied, and not one seat vacant. Several people, having recognized me, offered their seats to me; and I was feeling so tired that in the end I accepted one. When I had finished my meal, a gentleman who was seated at another table stood up, and in an extemporized speech asked all present to drink my health.
"His kind attention pleased me greatly. But I remember that my chief concern was for the old travelling suit I was wearing—I am not ashamed to acknowledge as much: any woman would have felt the same under similar circumstances. But my old clothes did not stand me in bad stead: all responded to the invitation, and drained their glasses in my honor.
"The next day, the incident was described in the newspapers. The Americans, eager not to be outdone in the matter of courtesy, paid me a similar compliment at Portland."
One tiny memento of Pavlova's appearances in Vancouver came to light in a curious way many years after she died in 1931. It happens that during one of her visits here she had performed at the now-vanished Empress Theatre (it stood at the northwest corner of Hastings and Gore). When they tore that theatre down in 1940, one of the workmen noticed a flash of soft colour in the debris. He reached down and picked up a tiny powderpuff.
Stitched on it, in faded golden letters, was a single word: Pavlova.