Pioneer Bishop of British Columbia
Julie Ferguson writes: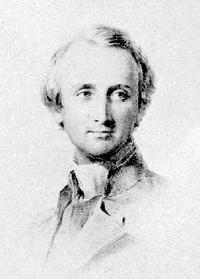 Fresh off the boat from England and newly consecrated, George Hills, the first Bishop of British Columbia, trudged north on a trail recently hacked through virgin forest. He was overwhelmed with the dense growth of towering evergreens after the rolling hills and green fields of Britain.
It was still winter in 1860 when Hills, mindful of his flock, sailed off to visit New Westminster. He expected it would be a small village. Instead, he found massive tree stumps littering the steep slopes, huts teetering on their foundations, and the church not yet started. Hill's local priest was living in one of the huts and relishing the challenge. Hills had chosen the Rev. John Sheepshanks because he was a rarity among the pioneering clerics – an outdoorsman with an innate sense of survival, he had an unwavering faith and an ear for languages that endeared him to the First Nations.
Notwithstanding the dispiriting appearance of the infant New Westminster on the mighty Fraser River, Hills foresaw "a vast city [that] may one day pursue world wide commerce." He was not alone. The colony's first governor, James Douglas, had envisioned the same future. Douglas was the drive behind the trail that led the bishop from New Westminster north to stand on the shore of Burrard Inlet, but it was the Royal Engineers who supplied the muscle. The track became North Road and was the catalyst for Port Moody's development. For a time this small settlement became the western terminus for the transcontinental Canadian railway before tracks were laid to Vancouver.
In May 1860, the bishop was travelling again. He undertook an exploratory journey up-country, vastly different from his easy trips by train in England, to see how much the First Nations knew about Jesus and if the primitive church was serving the gold miners well. Hills canoed up and down rapids, rode horses on perilous tracks high above the roaring Fraser, and slept on the ground wrapped in a blanket. To give him credit, he roughed it well enough, but he was astonished to find his clothes and new boots quite worn out after the 60-day, 1330-kilometre apostolic adventure.
© Julie H. Ferguson 2010