Vancouver in the Movies, 1907
Posted by Daniel on Mar 24, 2009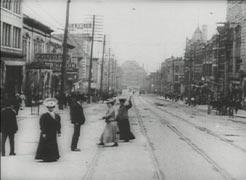 Vancouver historian Chuck Davis on the first film about the city:
I was one of the many people involved in the production of Vancouver Reflections, the DVD that incorporated William Harbeck's fascinating 1907 film of Vancouver. The Vancouver Historical Society (VHS) took that six-minute black-and-white silent film—the earliest film of the city, showing the way it was in May, 1907—and videotaped a 2007 re-creation, following the same route at the same speed.
Harbeck had his camera at the front of a BC Electric streetcar. The VHS used a camera truck. Then they added a raft of material for the DVD, including historical information on the places shown in the original 1907 film. My task, helped by local historian John Atkin, was to walk Harbeck's route (Granville, Hastings, Carrall, Cordova, Cambie, Robson and Davie), then look at the 1907 city directory for those streets and make notes on interesting stuff along that route.
My notes run to several pages, but the name that jumps out most prominently is Emily Carr. In 1907 Ms. Carr had a studio on the second floor of 570 Granville. It was pleasant to imagine her standing at the window of her studio (if in fact it faced Granville) to watch Harbeck's streetcar go by.
The non-profit VHS is selling the DVD for $20. You can read more about it, even order it, at www.johnatkin.com/harbeck/project.htm