Happy New Year from KnowBC!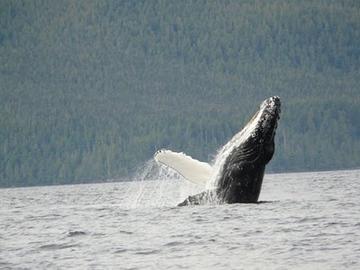 It is the end of a decade and everyone in the media is making lists of the top accomplishments of the naughties, so I thought I'd add my two cents in the form of this nice photograph by Michael McCarthy.
Yup, if I had to make a choice of the top event in BC of the past ten years I'd nominate the return of the humpback to the inner coast. Back in 1952 a catcher boat from the shore whaling station at Coal Harbour on northern Vancouver Island came around into the Broughton Archipelago and killed the last few humpbacks frequenting the waters between the Island and the mainland. Before the whalers killed them off, the barnacled giants with their haunting song and giant fins were widespread on the coast, even in Howe Sound near Vancouver.
And now they are back. Whale watchers report that for several years humpbacks have been seen in the summer and fall, not just from time to time but so regularly that the boat operators can almost promise their customers a good viewing.
In a decade of really bad news for the environment, that is one piece of good news from this neck of the woods.
And with that I depart on a short New Year's holiday. Back on Jan. 5, 2010.