Banish Those Labour Day Blues
Posted by Howard on Aug 31, 2013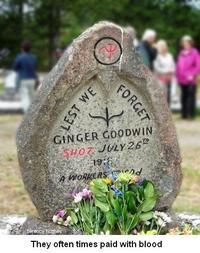 Labour Day! End of summer holidays! Back to school! For many, Labour Day Weekend is not the most welcome holiday of the year and perhaps tends to create negative associations between life and labour, which is too bad because if you think about it, labour is at the centre of most of our lives. When people ask you what you do, they invariably mean what work you do. Most of us when asked to describe ourselves begin by naming the kind of labour we perform. When we get old and write our memoirs we invariably spend most of our time talking about the things that happened in our line of work. What a shame then, that when we think of labour it is with an inward groan and when we think of the labour movement on Labour Day, we think dark thoughts—if we think of it at all. Perhaps it would be better if we thought of it as the Un-labour Movement because one of the chief accomplishments of the Labour Movement over the years has been to limit the hours of the day and days of the year we spend working so that we can have a life outside work. The eight-hour day, statutory holidays and paid vacations were some of the longest and hardest-fought achievements of the BC Labour Movement.
Here are some other notable facts about the Labour Movement in BC:
*The first organized strike took place at the Hudsons Bay Company coal mine at Fort Rupert in 1850. Two strikers were placed in irons and the rest decamped to the California gold fields.
*Robert Dunsmuir, one of the replacement workers brought in from Scotland, sided with the HBC in another strike in 1855 and was rewarded with a labour contract. He subsequently started his own coal mines which were the scene of some of BC's bloodiest labour battles.
*Unions were illegal in Canada until 1872.
*At least two labour leaders have been murdered for union activity in BC. The first was Frank Rogers, who was shot by CPR special police while organizing a United Brotherhood of Railway Workers strike in 1903. The second was Albert "Ginger" Goodwin, shot by a special constable while organizing the Cumberland coal mines in 1918. On Aug. 2 a general strike was held across BC to protest his killing, the first general strike in Canada.
For more about BC Labour history, see Prof. Mark Leier's "Labour Movement" entry in the Encyclopedia of BC.