Sliced Bread Makes its Appearance
Posted by Daniel on Nov 2, 2009
Vancouver historian Chuck Davis writes: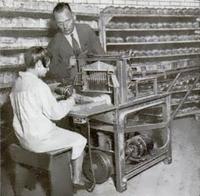 1937 was an active year in Vancouver: the Vancouver Sun was burned out of its 125 West Pender headquarters and moved across the street into what we still call the Old Sun Building, we elected our first woman alderman (Helena Gutteridge), the Pattullo Bridge opened, construction started on the Lions Gate Bridge, we celebrated the coronation of King George VI, the Cave Supper Club began and the Lougheed Highway was opened to traffic.
But all of these events pale into insignificance compared to the introduction of . . . wait for it! Sliced bread.
Canadians tend to take longer to warm to new-fangled stuff, so it's no surprise that sliced bread, which had been available in some US cities for a few years, didn't get to Vancouver and the rest of BC until July 19, 1937. We know who developed it: he was an Ohio jeweler named Otto Rohwedder, and he worked for 13 years on perfecting his machine. Bakers told him to forget it, because sliced bread would get stale faster. So Rohwedder went back to his drawing board and developed a machine that first sliced bread, then wrapped it.
Sliced bread gave a big boost to the sale of the electric toaster.
1937 also brought us the shopping cart and Kraft Dinner. All in all, a momentous year.