A Visit to Wigwam Inn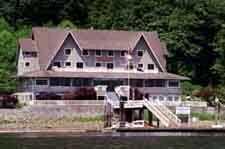 Vancouver historian Chuck Davis writes:
I first came to Vancouver more than sixty years ago, but not until recently did I ever see Wigwam Inn, at the north end of Indian Arm, just west of Vancouver. Harvey Oberfeld and I were the guests of former CKNW morning man, Brian "Frosty" Forst, aboard his lively little 26-foot Sea Ray Thai Dancer.
Wigwam Inn (the photo above is courtesy of the Vancouver Sun) was built in 1909, financed by Prussian-born financier Konstantin 'Alvo' von Alvensleben. He'd come to BC in 1904 with $4 in his pocket, and five years later was a millionaire, one of Vancouver's most prominent realtors. His Kerrisdale estate, staffed by thirteen servants, became Crofton House, the prestigious private school for girls. During World War One he lost everything and ended up interned in the US as a spy, but that's another story.
The Inn is three storeys high, but smaller than I had expected. We sat on the verandah and munched on sandwiches we'd brought along, washed down with soft drinks. (All three of us, by the way, are ex-broadcasters.)
While Brian and Harvey talked boats with another visiting yachtsman (who was staying overnight with his family on his boat), I wandered through the Inn's deserted (and somewhat dark and gloomy) rooms where I found, among other things, a copy of the April 15, 1911 register that showed the signatures of two financial titans of the time, John D. Rockefeller and John Jacob Astor. Exactly one year to the day later Astor would be one of the victims of the Titanic sinking.
A lot of famous folks stayed at this place during its heyday. I also found—incised for some reason on a stretched piece of leather on one of the Inn's walls—a proclamation of the sale of the Wigwam to the Royal Vancouver Yacht Club on June 23, 1985. (Brian's an RVYC member; the Inn now functions as a club outstation.)
A highlight of the trip back to town was passing two old BC Hydro powerhouses on the eastern shore. One of them has been there for more than a century, and they're still in use. They're fed by water from Buntzen Lake, about 150 metres up the hill. That lake, in turn, is replenished through a tunnel by water from the much larger Coquitlam Lake to the east and above Buntzen.
Buntzen No. 1 was built in 1903 to provide electricity for the Vancouver area. It was upgraded in 1951 to boost capacity to 55,000 kW. Buntzen No. 2, just north of No. 1, was built in 1914 to supply 26,700 kW of power. I learned from Wikipedia that "the stations are unmanned and operated by remote control from a BC Hydro facility atop Burnaby Mountain." We got close enough to read Vancouver Power Company 1903 on No. 1, but big signs cautioned us from coming too close: apparently sudden outflows of water can occur.