When Vancouver Won the Stanley Cup
Posted by Daniel on Jan 14, 2010
Chuck Davis writes: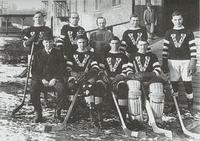 The Stanley Cup does seem to have a will-o'-the-wisp quality about it out here on the coast.
Winning the Cup for Vancouver wasn't a big deal in 1915. When our Millionaires won it on March 26, 1915 against the Ottawa Senators the story was buried on Page 7 of The Vancouver Sun, with no reference on the front page. We have a hunch a repeat win for Vancouver would now make the front page.
The Millionaires (that's them in the photograph above) represented the Pacific Coast Hockey Association, a western league founded by the Patrick family: Joe, Lester and Frank.
The star of the three-game sweep against the Senators was the Millionaires' Fred "Cyclone" Taylor, a zippy gent who had once played for Ottawa. Cyclone was a particular target of the Ottawa team, and had to be helped off the ice after a crushing hit in Game 2. It didn't slow him down much: he scored two more goals in Game 3, bringing his series total to six. (Barney Stanley -- no relation -- did pretty well for the Millionaires, too, scoring three goals in the second period of that third game.)
One of the rules back then was curious: when a player was penalized and sent off, another player could take his place. The teams—which played all three games at the Denman Arena, located at the intersection of Denman and Georgia—were playing under "eastern rules," which included that bizarre provision.
The Millionaires made it back to the final in 1918, 1921 and 1922 but never again got to hoist the trophy. It's been 95 years since the Stanley Cup was here. We're due.