Nell Shipman, the Girl from God's Country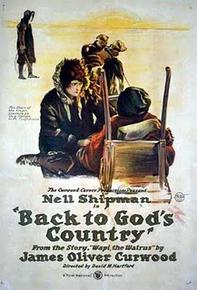 Some readers have asked for more about BC-born silent movie star Nell Shipman, mentioned in my last post.
As mentioned, she was born Helen Foster-Barham in Victoria in 1892. Her marriage to the Canadian theatrical producer Ernest Shipman when she was just 18 years old (he was 39) took her to Hollywood and onto the silver screen. Not only did she become a star actor, she also wrote, produced and directed films, very unusual for a woman at the time.
The poster for Back to God's Country (above), the film she and her husband made with James Oliver Curwood, puts her front and centre. In fact she and Curwood had a falling out during the making of the film over the way she reworked the script to focus more on the female lead. Nell was an early feminist and wanted to show women in dynamic roles.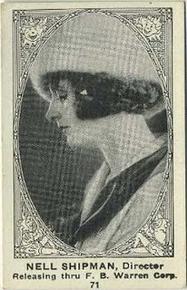 After she left her husband, Nell continued to work in films as a producer, writer, director and star, for a while running her own production company. "The Girl from God's Country" had a genuine interest in the wild and she collected a menagerie of animals, at one time the largest privately-owned zoo in North America, which she eventually gave to the San Diego Zoo.
After her production company collapsed in the mid-1920s Nell became more of a writer of novels and screenplays. For example, she wrote the 1935 movie, Wings in the Dark, with Myrna Loy and Cary Grant. But she never had the success as a writer that she did as a star of the silent era. She eventually settled in California where she was living when she died in 1970.
Her autobiography, The Silent Screen and My Talking Heart, appeared after her death. There is also a biography by Kay Armatage, The Girl From God's Country (U of T Press, 2003).