First Flight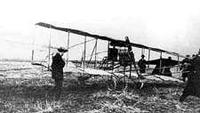 Today marks the 100th anniversary of the first manned, powered aircraft flight in Canada. From the frozen surface of Bras d'Or Lake in Cape Breton, Nova Scotia, the Silver Dart, piloted by Douglas McCurdy, ascended into the air.
Thirteen months later, on March 25, 1910, powered flight came to BC. Out at Minoru Park racetrack in Richmond, American aviator Charles Hamilton took off in a Curtiss pusher biplane (the photo above is courtesy of the Richmond Archives). The stands were packed with 3,500 onlookers who held their collective breath as Hamilton circled and successfully landed. It was the first manned flight west of Winnipeg.
The following day Hamilton went up again and flew to New Westminster and back. The trip took 30 minutes.