Gastown Named an Historic Site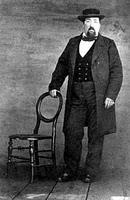 Years ago when I lived in Ottawa I knew several government historians part of whose job it was to write the plaques which adorn our national historic sites. This is more difficult than you might think. It requires the writer to distill a mountain of research notes down to a small number of words that will last, in bronze, a lifetime. In the face of such a challenge, every letter counts. Vancouver's Gastown district has been declared one of these historic sites. I have not read the plaque yet, but whoever wrote it had a colourful history to draw on for information. Gastown began to take on a distinct identity after Jack Deighton arrived from New Westminster in 1867 with his Squamish wife Whahalia and a barrel of whiskey to establish the Globe Saloon where thirsty workers from Stamp's sawmill came to drink. The garrulous Deighton (pictured here with credit to the BC Archives D-07873), known as Gassy Jack because of his ability to talk endlessly on any subject, was considered the community's founder, but Gastown was never an official name. Instead the tiny seaside hamlet was christened Granville in 1870 when it was surveyed for the first time. The main drag was Water Street, then a winding dirt track littered with potholes and stumps. George Black kept a pet bear chained at the door of his butcher shop and the language encountered on the street was more likely to be Chinook Jargon or Portuguese than English. Everything changed with the arrival of the Canadian Pacific Railway. In return for establishing its western terminus at Granville the rail company received a generous land grant encompassing most of what became the downtown core and the right to rename the community Vancouver, the choice of CPR general manager William Van Horne. Most of Gastown burned in the great fire of June 1886, but it was rebuilt along with the rest of the city and later developed as a warehouse district. It had fallen on hard times by the 1960s when it was refurbished as a fashionable heritage neighbourhood. I wonder if the plaque writers mention the infamous Gastown Riot of 7 August 1971 when police violently overreacted to a festive gathering of street people and hippies, putting 12 people into hospital and 79 into jail.
For a while Gastown became a horribly plastic tourist trap, its streets lined with t-shirt shops and fast food vendors, but in the past decade it has turned around once again. Not long ago I even saw it referred to as the "New Yaletown" in the newspaper, confirming its born-again hipness. Now it has received official confirmation as Vancouver's historic birthplace.