Patrick Reid, Mastermind of Expo 86
Posted by Howard on Dec 15, 2015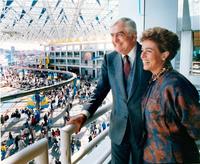 Patrick Reid, best known to British Columbians as the man who guided Expo 86, had a long and many-sided career.
Born Patrick Lockhart Reid was born in Belfast, Northern Ireland on Nov. 14, 1924, he grew up on a farm in County Donegal. At 15 he entered law school at Queen's University in Belfast, but he didn't graduate until 1948, owing to military service during WWII.
In 1944 Reid graduated from Royal Military College in Sandhurst, England, as the top cadet, earning him the Badge of Honour. He soon saw action with the North Irish Horse unit in Italy, where he was wounded twice and awarded the Military Cross for bravery.
Reassigned to the war in the Pacific, Reid was involved in the liberation of Malaya, and was appointed Commander of the Military Police in Singapore in 1945 to 1947. He became the youngest major in the British army when he was 21.
A natural diplomat, after the Second World War Reid travelled to 50 countries on assignment from the British army. In 1954, he came to Kingston, Ont. to study at the Canadian Staff Army College and decided to make Canada his home. He moved to Vancouver in 1956 where he married his wife Alison in 1958 and had two children, Amanda and Michael.
In 1962 Reid joined in the civil service in Ottawa. In 1964 he was the director of the Canadian government exhibition commission, which oversaw Canadian displays around the world. When Liberal Prime Minister Lester Pearson made the controversial decision to replace Canada's old colonial flag, the Red Ensign, which included the British Union Jack, he placed Reid in charge. With government artist Jacques Saint Cyr, Reid came up with the stylized maple leaf flag that has since become such a focal point of Canadian identity.
"It worked because it was simple, it worked because it was emotional," Reid later said. "And as it turned out, after the flag was unfurled, people, particularly young people, responded to it in a positive way."
Reid would go on to have a remarkable career in the civil service. He was Canadian commissioner general at fairs in Italy, Japan and the United States, and was president of the International Bureau of Expositions in Paris from 1979 to 1983. From 1978 to 1982 he was appointed the minister in charge of Canada House in London, England. From 1982 to 1986 he was commissioner general of Expo 86, and he was Canada's consul-general in San Francisco from 1986 to 1988. In his later years he was chair of the board for the Vancouver Port Corporation, the Vancouver Stock Exchange, and the Rick Hansen Man in Motion Society. He held many honours, including the Order of Canada.
Reid died at the age of 91 on Dec. 5, 2015 at Richmond General Hospital after suffering a heart attack.