Rescuing a Piece of Film History
Posted by Daniel on Mar 25, 2009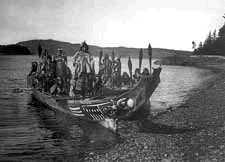 When I lived in Ottawa during the 1970s and took my children to the National Museum of Civilization, we always paused to watch the few minutes of video footage from Edward Curtis's landmark film, In the Land of the War Canoes. At that time I had no knowledge of the interesting history behind the film; I was simply entranced by the stuttering images of coastal Natives dressed in elaborate feathered costumes, like giant birds. (The photograph above is a still from the movie. Source: BC Archives D-08291)
In the Land of the War Canoes was the first full-length documentary motion picture made about aboriginal North Americans. It was filmed on northern Vancouver Island among the Kwakwaka'wakw people by Curtis, an American photographer, and premiered in Seattle in 1914 with its original, libellous, title, In the Land of the Head Hunters (libellous because of course the Kwakwaka'wakw were not "head hunters"; the name was a publicity stunt). Then it disappeared.
A damaged copy of the original resurfaced in 1947 and during the 1970s it was partially restored and given its new title. It was scenes from that restored copy that I saw at the museum in Ottawa.
More recently a team of experts has managed to rehabilitate the film to its original glory, complete with the musical score that would have accompanied it in the theatre in 1914. Back from the dead, In the Land of the War Canoes has been shown in Vancouver and is on a tour of several North American cities.
To learn more about the film and its rescue, visit http://www.curtisfilm.rutgers.edu/.