Streetcars of History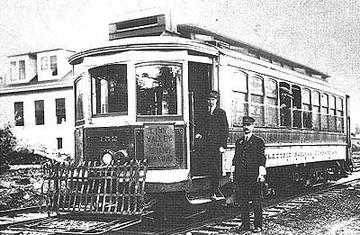 At its height, the BC Electric Railway Company operated a street railway system that included urban trams in Vancouver, North Vancouver and New Westminister and an interurban network that connected downtown Vancouver to Steveston and out the Fraser Valley as far as Chilliwack. (It also ran systems in Victoria and on the Saanich Peninsula.)
During the late 1940s and early 1950s the street railway lines one by one were converted to bus routes. The beautiful old cars were mothballed. Those that weren't destroyed ended up as chicken coops, bunkhouses, roadside cafes, whatever.
The expert on all this local streetcar lore is Henry Ewert, who has written three books on the subject. On Sunday I went along to an illustrated talk Henry gave at the North Shore Community History Centre about the streetcars that operated in North Vancouver. "The perfect little streetcar system", as Henry calls it in his book of the same name, ran between 1906 and its demise in 1947 on three lines radiating out from the ferry wharf at the foot of Lonsdale Avenue.
Of particular interest is Streetcar #153. There were hundreds of old tram cars operating in the Lower Mainland but less than a dozen survive and of these survivors North Vancouver owns #153. It is currently in storage being refurbished for display. Who knows, perhaps some day the old car will be put back into operation.