Vancouver's Open Air Streetcar
Posted by Daniel on Sep 15, 2009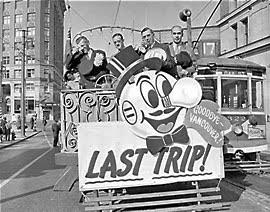 Vancouver historian Chuck Davis writes: One of my earliest memories of Vancouver was going for a ride with my Dad on Teddy Lyons' open-air streetcar, No. 124. It would have been, I guesstimate, sometime in 1945. Teddy had been a 'spieler' aboard 124 for more than 30 years already, and he knew the city as well as anyone. Back around 1909 the B.C. Electric Railway had purchased plans for two open-air sightseeing cars from the Montreal Tramways Company for 25 cents and constructed the cars in its New Westminster shops. A young conductor worked one on short notice one day, and found himself a born showman. From that day on "Teddy Lyons and the observation car" were inseparable. His quick wit and non-stop gags became so well known the company even published a book of 'Teddy Lyons Jokes'. "See that seagull? Richest one in Vancouver. Came by here the other day and made a deposit on a brand-new Cadillac." It was corny, and the passengers loved it, and they loved the little groups of children who would sing at corners where the car stopped. At one point during the journey Teddy would point up at a certain building, the passengers would all look up and photographer Harry Bullen, hidden inside the building, would snap a photo . . . which magically became available for sale at the end of the trip. There are literally thousands of these photographs extant today.
Thadeous Sylvester Lyons was born c. 1889 in Portage La Prairie, Man. He came to Vancouver as a boy, at age 14 left school and worked at odd jobs, became a conductor for the BCER in 1910 and started spieling in 1911. Teddy would conduct his tours for 39 years! Someone calculated he had travelled 580,000 miles (928,000 km) through the city during his career.
His last run (shown in the photograph above) was September 17, 1950. Hamming it up to the end, Teddy yanked out a hankie to dry his tears for photographer Art Jones.