Business Top Ten
Posted by Daniel on Dec 19, 2008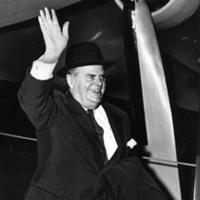 A team of business types based at the University of Toronto have come up with a list of the Top 40 events in Canadian business history. Since not many items on the list relate directly to British Columbia, I thought I'd suggest my own Top 10 moments in BC business history. In chronological order, they are:
1. The driving of the Last Spike at Craigellachie, near Revelstoke, in November 1885. The completion of a rail link to the rest of Canada energized the BC economy.
2. The creation of the Union Steamship Co. in 1889. At its peak the company's vessels served more than 200 ports of call along the BC coast, hauling freight, carrying passengers and providing many people with their only link to the outside world.
3. The formation of the Anglo-BC Packing Co. by Henry Ogle Bell-Irving in 1891. It pioneered the consolidation of the salmon canning industry and in its heyday was the largest producer of canned sockeye in the world.
4. The CPR merged mining and power interests with its smelter at Trail to form the consolidated Mining and Smelting Co. (Cominco) in 1906. By the 1920s the Cominco smelter was the largest lead-zinc producer in the world.
5. Another last spike, this time on the Grand Trunk Pacific rail line near Fort Fraser in April 1914. Following the war the railway, which reached tidewater at Prince Rupert, became part of the Canadian National system.
6. Production of the first commercial quantities of natural gas near Pouce Coupe in 1948 inaugurated a period of intense resource development in the province's northeast corner.
7. The Aluminum Company of Canada (Alcan) chose Kitimat as the site of a new smelter in 1950.
8. Timber baron H.R. MacMillan merged his own company with his major competitor in 1951 to form MacMillan and Bloedel Ltd, eventually BC's largest business enterprise.
9. The Social Credit government of Premier W.A.C. Bennett in 1960 expropriated privately-owned BC Electric and the next year created BC Hydro and Power Authority, a publicly-owned power utility that undertook massive hydroelectric developments on the Peace and Columbia rivers.
10. Entrepreneur Jim Pattison in 1977 formed the Jim Pattison Group, bringing together his various enterprises and creating what became BC's largest privately-owned corporation.
Feel free to nominate your own choice(s) for other landmark moments in BC business history.