Prince of Wales in BC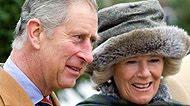 When Prince Charles and his wife Camilla arrive in BC this weekend, it will be the fourth time that the heir to the throne has made an official visit to the province.
The first was in 1979 when Charles, then an eligible young bachelor, landed in Victoria to begin a seven-day tour that took him to the Northwest Territories, Manitoba and Ontario. The Prince returned to Vancouver and Victoria the following year and, among other official duties, unveiled Bill Reid's monumental sculpture "The Raven and the First Men" at UBC's Museum of Anthropology. The MOA had opened in its present, Arthur Erickson-designed building, four years earlier.
Charles's most memorable visit was his third, in May 1986, when he and his first wife, Lady Diana, were on hand to open Expo '86 in Vancouver. This visit also included Prince George, Kamloops and Nanaimo and the glamorous princess stole the show wherever the royal couple appeared. By the time Charles was back in BC in 1998, on an unofficial ski holiday in Whistler with his sons, he was a widower. Diana had died the previous year in a car crash in Paris.
This weekend Charles and Camilla will be in Vancouver and Victoria.