Marie Lloyd in Vancouver
Vancouver historian Chuck Davis writes: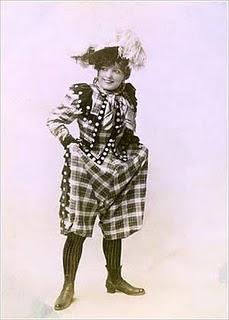 In Ivan Ackery's Fifty Years on Theatre Row he quotes an oldtimer, Teddy Jamieson, who recalled a visit to the (old) Orpheum Theatre in Vancouver by Marie Lloyd. It was early February, 1914. Lloyd, queen of the English music hall, had a reputation for doing "blue" material. It got her into trouble here.
"The [Vancouver] licence inspector cut out one of her two songs, The Ankle Watch," Teddy explained. "It was mild as could be in comparison to today. During the song she lifted her dress and showed her ankle watch. They made her cut it out."
Lloyd's personal life was turbulent. After two unsuccessful marriages she began, at 41, living with a 23-year-old jockey, Bernard Dillon. She was excluded from the Royal Command Performance of 1912 because of her reputation.
Her lifestyle did her no harm at the box office. She was engaged to tour the US and Canada at £150 a week. By the time she got to Vancouver, public curiosity was intense. Mayor T.S. Baxter sent licence inspector Charlie Jones around to look at the show, and what Jones had to tell him prompted the mayor to say that he "was of the opinion that two of Marie Lloyd's songs might go all right in London, but Vancouver would not stand for them." We suspect one of those songs might be "She'd Never Had Her Ticket Punched Before".
The response of the theatre manager: "I should worry. As of Monday night every available seat in the Orpheum was sold."
That proof of Marie's undeniable popularity had no effect on Mayor Baxter. By Saturday he ordered her show closed. "Despite the mayor's orders," the Vancouver Sun reported, "there were those who wanted to see her, particularly members of Vancouver's Smart Set. They prevailed upon her to participate in the cabaret matinee at the Hotel Vancouver, where she was loudly applauded."
At the peak of her career she was earning up to £600 a week singing the best character songs of her career. They included, a music hall history tells us, "Don't Dilly Dally", "My Old Man Said Follow the Van" and "One of the Ruins that Cromwell Knocked About a Bit". By 1920 her health was broken, and she died October 7, 1922, aged just 52.