Bill Vander Zalm Returns to the Public Stage
Posted by Daniel on Sep 21, 2009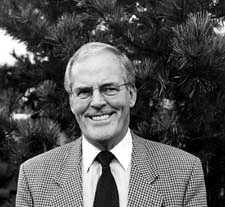 With the emergence of Bill Vander Zalm as a leader of the anti-HST movement, it is worth recalling the former premier's political career. Astonishingly, there are many for whom the 1980s seem like ancient history and the name Faye Leung means nothing.
Like many successful politicians, Mr. Vander Zalm began his career at the municipal level. After more than a decade in his family's plant nursery business, he won election in 1965 to Surrey city council. Four years later, age 35, he became Surrey's mayor. At that time, Mr. Vander Zalm belonged to the Liberal Party and during his years on council he ran, unsuccessfully, in the federal election of 1968 and for the leadership of the provincial Liberals in 1972. At that time the provincial party was more or less wandering in the wilderness. Struggling to find its place in the middle of a political spectrum dominated by Social Credit on the right and the NDP on the left, the Liberals seemed irrelevent to voters.
Recognizing this, in 1974 Mr. Vander Zalm joined the BC Social Credit Party. Under the Socred banner he ran for, and won, a seat in the 1975 provincial election. Premier Bill Bennett named him to his cabinet as minister of human resources, an odd choice given that as Surrey's mayor Mr. Vander Zalm had won notoriety as an active crusader against what he claimed was widespread fraud by welfare deadbeats. (One infamous newspaper cartoon showed a grinning minister picking the wings off flies.) He went on to hold two other cabinet posts -- it was Mr. Vander Zalm who, as minister of municipal affairs, initiated the Skytrain project -- and was one of the most outspoken and quotable ministers during the "Son of Socred" period.
In April 1983 Mr. Vander Zalm abruptly quit politics just before a provincial election. Things were not looking good for the Bennett government and Mr. Vander Zalm's detractors felt he was abandoning ship for his own political advantage. It was the next year that he purchased Fantasy
Garden World, a Richmond theme park that would figure largely in later developments.
Mr. Vander Zalm had no interest in retiring from politics. In 1984 he failed in his bid to become mayor of Vancouver, losing to Mike Harcourt. Then, in July 1986, the leadership of the Socred Party suddenly became available with the mid-term retirement of Bill Bennett. Mr. Vander Zalm threw his hat into the ring and at the hotly-contested leadership convention in Whistler he emerged the new leader. (Also on the ballot, finishing in last place, was Kim Campbell who seven years later would become Canada's only female prime minister; in her convention speech Ms. Campbell warned against politicians who exhibited "charisma without substance" but she did not name names.)
Mr. Vander Zalm was a very effective campaigner and later in 1986 he and the Socreds rode a wave of "Vandermania" to another victory over the NDP. But once in office his charm proved less effective as his brand of social conservatism lost him the support of many voters. His tenure was a turbulent one and ended with allegations of conflict of interest surrounding the sale of Fantasy Gardens to Taiwanese business interests. The conflict-of-interest commissioner ruled that Mr. Vander Zalm's actions were improper, though a court later found that he had done nothing illegal. (Faye Leung, aka "the hat lady" because of her remarkable millinery style, was notoriously involved in the Fantasy Gardens deal.) In 1991 Mr. Vander Zalm resigned over the affair and returned to private life.
Mr. Vander Zalm's last fling in politics was in 1998 when he took over leadership of a floundering BC Reform Party. He ran in a provincial byelection the next year but lost badly and has been tending to business interests since. It remains to be seen whether the famed Vander Zalm charisma will add momentum to the public opposition to the Liberal government's new tax policy.