At the Movies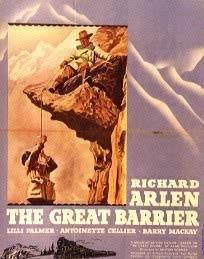 Another story from Vancouver historian and broadcaster Chuck Davis. Congratulations to Chuck, by the way, who is being given a pioneer award by the BC Entertainment Hall of Fame on Sunday.

One of the greatest (and funniest) experiences of my rooting around in our history was discovering the 1937 movie The Great Barrier, a fictionalized treatment of the building of the CPR through the Rockies. When I mentioned it on my web site www.vancouverhistory.ca I got a phone call from a site visitor, Gordon Rebelato. He called to tell me he had a copy of the film. It starred Richard Arlen, Lilli Palmer and Antoinette Cellier . . . but the cast member I was most interested in was Ernie Rebelato, Gordon's father!
Mind you, he was just an extra, 15 years old at the time, and working for the CPR. But he was earning a very nice 75 cents an hour on the side for his work on the movie.
Would I be interested in having a copy of the film and meeting his dad, Gordon asked? I was at his place before he hung up the phone. While Gordon's mom Myrtle poured cool fruit drinks and served up pieces of cake, I learned from Ernie—now in his 80s—that the movie was made in and around Revelstoke, except for the interior scenes where CPR executives argued about the railway's progress, scenes filmed in New York. Ernie appeared in the mob scenes. The workers' pay was sometimes late in arriving, and living conditions weren't ideal, and so, as the movie had it, sometimes they got angry.
The movie is dated and plays fast and loose with the facts (we're told, for example, that the first train going through is headed for Vancouver, when in fact the first went to Port Moody), but it's fun to watch. The actor playing William Van Horne, the president of the CPR, at one point puts a furious fist to the jaw of a complaining worker. I had no idea that had ever happened! The actors playing Van Horne, Sir John A. Macdonald, Major Rogers and the like look enough like their real-life counterparts, and the quest for what came to be known as Rogers Pass is handled dramatically. The construction camp in the movie—presumably situated in what is now Alberta—is called Moodyville! It's named for the movie's camp boss, a fellow named Moody, who has no connection with Sewell Moody, who ran a thriving mill on the north shore of Burrard Inlet, and for whom the real Moodyville was named.
You can see a write-up on The Great Barrier at www.imdb.com/title/tt0028951.