Murray Goldman, the Wisecracking Haberdasher
Posted by Howard on Jun 5, 2013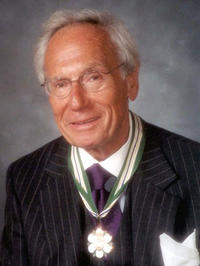 Murray Goldman, Vancouver's Wisecracking Haberdasher
Before the era of mass communications the most popular ways to get famous were by heroism on the field of battle, by great civic works, or by personal genius. In recent times people like hamburger king Dave Thomas and Vancouver haberdasher Murray Goldman found a different way: by starring in their own ad campaigns. Goldman was not Vancouver's biggest clothing merchant, but thanks to his constant barrage of homemade radio and television commercials, he had better name recognition than most of the city's mayors. Most British Columbians of a certain age will be able to recall the jingle: "There's not a single suit for sale at Murray Goldman," touting the store's prolonged two-for-one promotion.


Goldman was a born showman who used his eponymous menswear store at Hastings and Cambie streets in the heart of downtown Vancouver as a stage for his non-stop flow of quips. His wit was not quite of the Will Rogers calibre, but it was always at the ready. Asked when 1992's depressed business climate might improve, Goldman said: "It's picked up already. I caught two shoplifters last week." As for his suppliers in Montreal, "It's so bad, I heard that a couple of manufacturers have laid off their sons-in-law." Like many old-school wiseacres of the Henny Youngman and Benny Goodman cut, Goldman had favourites he repeated so often they became a kind of corny trademark, such as the one about the woman who came in to buy a suit for her husband's funeral and Goldman gave her such a good deal she bought an extra pair of pants.
Goldman was born in Opatow, Poland, in 1920 and came to Canadian with his parents at age three. After leaving school to begin working at age 13, he moved to Vancouver and opened Boston Clothing in 1946. In 1949 he opened his first Murray Goldman Men's Wear on Hastings Street. The business grew to 14 outlets at its peak. Goldman was a dedicated community activist and one of the Vancouver mainstays of Big Brothers, earning an Order of British Columbia in 2000.