Pacific Seaweeds
By Louis Druehl & Bridgette Clarkston
Completely revised and updated after selling more than 10,000 copies, Pacific Seaweeds is the authoritative guide to over 100 common species of seaweeds in the Pacific Northwest.
This updated and expanded guide thoroughly documents every aspect of seaweed life, from species identification and seaweed biology to the essential—and often surprising—roles seaweed plays in the marine ecosystem and our everyday lives. Seaweeds are used in everything from cosmetics to sustainable biofuels, and some species, like kelp, contribute to the remediation of coastal ecosystems.
Featuring an attractive new full-colour design, the expanded Pacific Seaweeds includes updated species descriptions, dozens of additional colour photos, new species discovered since the original edition, and brand-new sections on common shore plants and the use of DNA techniques to discover, catalog and identify seaweeds. It also features several new recipes and an essay on umami—because in addition to all its other uses, some species of seaweed make delectable food.
Packed with illustrations, vivid colour photographs, comprehensive scientific information and further readings, this easy-to-use guidebook will appeal to marine biologists, amateur beachcombers, gourmet foragers and everyone in between.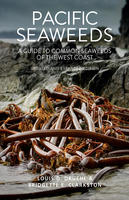 Pacific Seaweeds: Updated and Expanded Edition is available in paperback from your favourite bookstore or directly from HarbourPublishing.com.
ISBN 13: 978-1-55017-737-4
ISBN 10: 1-55017-737-0
350+ colour photos, B&W illustrations
5.5 x 8.5 inches, 320 pages
CAD$28.95 • USD$28.95
An ebook edition is also available on Apple iBooks.