Go Do Some Great Thing
The landmark story of British Columbia's first Black pioneers and their pivotal role in shaping the province.
Living in pre-Civil War Philadelphia, young Black activist Mifflin Gibbs was feeling disheartened from fighting the overwhelming tide of White America's legalized racism when abolitionist Julia Griffith encouraged him to "go do some great thing." These words helped inspire him to become a successful merchant in San Francisco, and then to seek a more just society in the new colony of Vancouver Island, where he was to become a prominent citizen and elected official.
Gibbs joined a movement of Black American emigrants fleeing the increasingly oppressive and anti-Black Californian legal system in 1858. They hoped to establish themselves in a new country where they would have full access to the rights of citizenship and would be free to seek success and stability. Some six hundred Black Californians made the trip to Victoria in the midst of the Fraser River Gold Rush, but their hopes of finding a welcoming new home were ultimately disappointed. They were to encounter social segregation, disenfranchisement, limited employment opportunities and rampant discrimination. But in spite of the opposition and racism they faced, these pioneers played a pivotal role in the emerging province, establishing an all-Black militia unit to protect against American invasion, casting deciding votes in the 1860 election and helping to build the province as teachers, miners, artisans, entrepreneurs and merchants.
Crawford Kilian brings this vibrant period of British Columbia's history to life, evoking the chaos and opportunity of Victoria's gold rush boom and describing the fascinating lives of prominent Black pioneers and trailblazers, from Sylvia Stark and Saltspring Island's notable Stark family to lifeguard and special constable Joe Fortes, who taught a generation of Vancouverites to swim. Since its original publication in 1978, Go Do Some Great Thing has remained foundational reading on the history of Black pioneers in BC. Updated and with a new foreword by Adam Rudder, the third edition of this under-told story describes the hardships and triumphs of BC's first Black citizens and their legacy in the province today. Partial proceeds from each copy sold will be donated to the Hogan's Alley Society.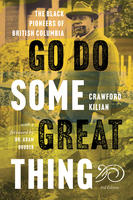 Go Do Some Great Thing: The Black Pioneers of British Columbia is available in paperback from your favourite bookstore or directly from harbourpublishing.com.
ISBN 13: 978-1-55017-948-4
ISBN 10: 1-55017-948-9
24 B&W photographs
6 × 9 – 272 pp
CAD$26.95 • USD$26.95
An ebook edition is also available from Amazon, Kobo, Apple iBooks and other ebook retailers.